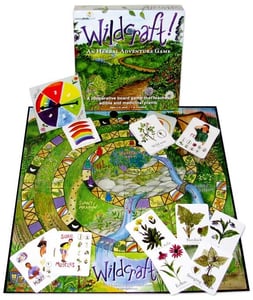 Wildcraft! is a great introduction to the world of edible and medicinal herbs for children of ALL ages, teaching you 25 important plants and their uses in mostly first aid situations. (Wildcrafting is the harvesting of wild plants)
It's a beautifully illustrated, nature based, cooperative game created in the tradition of the classic board games.
Wildcraft! includes a 20x20 inch game board, instructions, 4 player pieces, 52 plant cards, 52 trouble cards, 25 cooperative cards, and a spinner. It also comes with a downloadable story to enhance the story of the game.
$

37.00